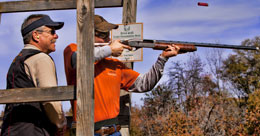 Most intermediate Sporting Clays shooters have moved their scores up slightly, but have not yet identified their set-up and swing inconsistencies, their unintentional errors. Performances in the shooting box still vary from day to day. While intermediate sporting clays shooters are breaking targets, they're also beginning to recognize that hundreds and hundreds of empty hulls on the ground aren't making them more consistent, or solving their performance issues.
Intermediate Sporting Clays shooters have learned they can break targets—every day—but not consistently. They're also positive they are capable of better shooting—and they are correct about that—but don't understand why their scores are not moving up.
A gun fitting, new equipment and better Sporting Clays shooting methods can all be helpful. But none of those come first. What comes first is making sure your set up on the target and your swing are built on the basics, and are error free. Regardless of age, gender or skill level, unknown set up and swing errors will cost targets. This is why the intermediate Sporting Clays shooter has plateaued. A simple but thorough evaluation of your shooting style, swing and methods, will reveal these inconsistencies. Once identified, honest, measurable progress can take place providing more consistency and more reliability in your game—today—and every day after.
There is absolutely nothing mysterious about missing targets, hitting targets, and advancing your skill level. Clear, logical answers are available to you and all who seek them. We welcome your questions.

Advanced Competitors